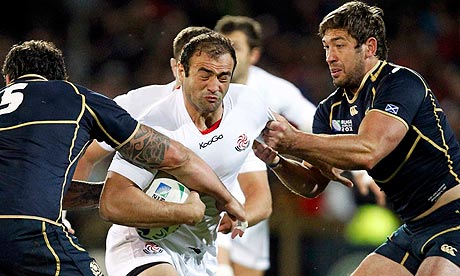 Scotland 15-6 Georgia, RWC 2011
Close game yet a rare fixture
In rugby international competition is divided into three categories. Known as tiers they are used to establish a basis for present and future ability, setting a platform for sides to know where they lie and just how much work they need to do to advance to a superior tier and also not fall down to an inferior tier. The IRB World Rankings has ninety-six nations but the top two tiers account for only the top eighteen sides. Of the sides considered as being the Top Two Tiers all except Georgia have competed at every Rugby World Cup since it was expanded from sixteen to twenty teams in 1999. The First Tier consists of ten sides - Australia, Argentina, England, France, Ireland, Italy, New Zealand, Scotland, South Africa and Wales. The same teams account for all places in the Six Nations Championship and The Rugby Championship. The Second Tier consists of eight sides - Canada, Fiji, Georgia, Japan, Romania, Samoa, Tonga and the United States of America. In New Zealand 2011 these eighteen sides were joined by Namibia and Russia. As expected, no Tier Two side made the Quarter Finals of the tournament and neither Namibia nor Russia won a match which goes to show the tiers´ are a good reflection of the global rugby order.
Despite the tiers not being geographically organized at all the IRB and Rugby World Cup Limited operate on a regional structure which in the case of Namibia, for instance, has seen the African nation qualify for the past four World Cup´s, despite never having come close to winning a World Cup match. Namibia, a Tier Three nation, has been Africa´s best for the past twelve years but has only participated at World Cup´s due to Africa being given a direct qualifying spot. This
controversy highlights the failures of the global rugby
authorities to create a fair system for all in that African Tier Three sides have a massive advantage over all Tier Three nations from all other regions - Asia, Europe, Oceania and the Americas. While Namibia qualified after defeating no teams from Rugby World Cup 1999, 2003 or 2007 Russia qualified after defeating teams from each of these World Cup´s - Portugal, Romania and Spain. The Europeans happened to also have significantly higher placings in the IRB World Rankings than the sides Namibia played against.
While Namibia has been the big winner in this, the biggest loser has been South America as it is the only continent which is not allocated World Cup qualification to the team which finishes first in qualification matches. The unjust system has the South American winner face the North American runner up with the winner of that qualifying for the World Cup as Americas 2. This ignores the Tier structure since North America has two sides from the second tier but South America doesn´t have any. Having Uruguay win the South American qualification series and then face Tier two sides while Namibia qualify automatically after only facing tier three sides is unjustifiable and simply odd. Seemingly, Uruguay´s two World Cup wins from seven matches has been entirely discredited. Curiously, the side that
Uruguay defeated in Rugby World Cup 2003, Georgia
, has gone on to now be a Tier Two side.
Chile vs Brazil, May 2012.
Argentina face both also in May 2012
Despite the IRB not doing good enough for the Americas, Argentina remains a regional leader. There is little to suggest that teams are closing the gap on Argentina. To the contrary, Los Pumas are a permanent tier one side that continues to match it against the best. Without its professional players, Argentina is still far too strong for the others in South America, as demonstrated yesterday with a
40-5 win over Uruguay
. Such matches do little for Argentine rugby but are crucial to the growth of the likes of Brazil, Chile and Uruguay. Argentina´s annual participation in the South American Championship (CONSUR A) gives potential Pumas of the future a chance but, more importantly, acts as a measuring stick for Argentina´s opponents, all of which are Tier Three rugby nations. Of the nine other Tier One sides no team plays in an annual regional competition comparable to the South American Championship. There is no Oceania Cup involving Australia , New Zealand and the three Tier Two sides of Fiji, Samoa and Tonga. Nor is there an African Cup involving South Africa and other teams from the continent. Europe, similarly, has no competition featuring the Six Nations sides and the emerging nations. Last years World Cup saw Scotland defeating Georgia 15-6. The Tier One side failed to score a try. Yet there is no international competition between the sides at all and the match was, amazingly, the first ever between the two nations.
The reason for no regional competitions is not the differing abilities, if it were then World Cup´s would only feature Tier One sides. The First Tier simply have no interest in such matches taking place due to the financial costs involved. Aside from Argentina facing its South American counterparts in the CONSUR A tournament the only comparable example is Asia which has Japan (Tier Two) competiting in the Asian Five Nations which sees the Japanese face the next four best Asian sides - currently Hong Kong, Kazakhstan, South Korea and the United Arab Emirates. Japan is Asia´s only non-Tier Three rugby nation and has competed at every World Cup. When Japan host Rugby World Cup 2019 it will be representing Asia and Argentina stands out as a regional leader for similar reasons. The South American Championship is a key part of developing the global game and it further underlines what Argentina has to offer as a World Cup host.